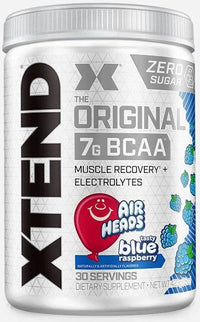 XTEND X Airheads Candy
Product Overview
NEW CANDY FLAVORS
Our new collab with AIRHEADS just proved hydration and recovery can really be all fun and games! Every sip is an explosion of mouthwatering candy flavor that's juicy, sweet, tart, and tangy all at once. But wait – it gets better! XTEND X AIRHEADS is sugar-free and designed to help you hydrate and recover with:

7G BCAAs
Hydrating Electrolytes
Performance Ingredients
ALL SWEET, NO SUGAR
How much sugar is in the new XTEND X AIRHEADS? Zip, Zero, Zilch, Nada! Made without sugar or carbs, this new flavor proves you can have your candy and eat it too. As the World's #1 BCAA Brand†, XTEND is the leader in recovery and hydration. The new XTEND X AIRHEADS is designed to support muscle repair and recovery with 7g of BCAAs and hydrating electrolytes to get you back in the game.

XTEND X AIRHEADS INGREDIENTS
7G BCAAS – Includes Branched Chain Amino Acids, L-Leucine, L-Glutamine, L-Isoleucine, and L-Valine, which cannot be made by the body.
HYDRATING ELECTROLYTES ­– Includes electrolytes Sodium Citrate, Sodium Chloride, and Potassium Chloride to support hydration.
Supplement Facts
Serving Size: 1 Scoop (13.5g)
Servings Per Container: 30
Amount Per Serving Amt %DV
Calories 5
Total Carbohydrates 0g 0%
Sugars 0g 0%
Vitamin B6(as Pyridoxine HCl) 0.64 mg 38%
Sodium (as Sodium Citrate, Sodium Chloride) 220mg 10%
Potassium (as Potassium Chloride) 170mg 4%
L-Leucine 3500mg†
L-Glutamine 2500mg†
L-Isoleucine 1750mg†
L-Valine 1750mg†

* % Daily Value is based on a 2,000-calorie diet. Your daily values may be higher or lower based on your calorie needs.
† Daily Value (DV) not established.

Other Ingredients: Citric Acid, Natural Flavors, Sucralose, Acesulfame Potassium, Polydextrose