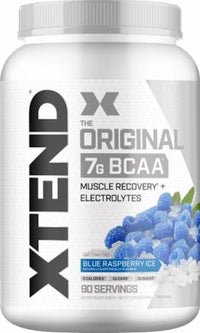 Xtend BCAA Original 90 servings
Xtend BCAA Original 90 servings
XTEND is the best-selling, most advanced BCAA drink mix on the planet.

At its heart are 7g of BCAAs in the nature-designed and research-proven 2:1:1 ratio, plus glutamine and citrulline malate. With a proprietary blend of hydration-inducing electrolytes, XTEND BCAA powder is a sugar-free and carb-free way to help anyone grind through a grueling gym session. World-class athletes, champion fighters, elite bodybuilders, and weight training enthusiasts of varying types all use XTEND during their workouts in order to train longer, harder, and with more intensity.
Supplement Facts 
90 Servings
Serving Size: 1 Scoop (13g)
Servings Per Container: 90
Amount Per ServingAmt%DV
Total Fat 0g 0%
Cholesterol 0mg 0%
Sodium 230mg10%
Potassium 170mg 5%
Total Carbohydrates 0g 0%
Sugars 0g 0%
Vitamin B6(as Pyridoxine HCl)640mcg32%
ELECTROLYTE BLEND:1170mg†
Trisodium Citrate Dihydrate, Potassium Chloride, Sodium Chloride
L-Leucine 3500mg†
L-Glutamine 2500mg†
L-Isoleucine 1750mg†
L-Valine 1750mg†
Citrulline Malate (1:1)1000mg†

* % Daily Value is based on a 2,000 calorie diet. Your daily values may be higher or lower based on your calorie needs.

† Daily Value (DV) not established.

Other Ingredients: Citric Acid, Natural Flavors, Sucralose, Acesulfame Potassium (Ace-K), FD&C Blue Lake #1, FD&C Red Lake #40.