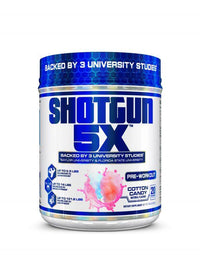 VPX Shotgun 5X 20 serving
SHOTGUN 5X VPX fuels episodes of physical intensity to induce insane muscle pumps that can lead to muscle growth.

SHOTGUN 5X supplement uses a superior synergistic blend of effective compounds combined with a cutting-edge delivery system that promotes mind-blowing, skin-bursting effects, while additionally supporting recovery and protein synthesis. Compounds such as Creatine, Beta-Alanine, and Branch Chain Amino Acids are each combined with Ethyl Ester technology to promote maximum absorption and uptake!
Supplements Facts
Serving Size: 20.5g (1 Scoop)
Servings Per Container: 20
Calories: 56
Sodium 33mg 1%
Protein 14g 28%
Vitamin B6 (Pyridoxine HCl) 100mcg 5%
Folate (Folic Acid) 40mcg 10%
Calcium 11mg 1%
Protein Hydroslate Matrix Yielding 22% Glutamine Peptide, 21% BCAA Peptide, & 41% EAAS 3.50g
Casein Protein Hydroslate, Whey Protein Isolate, Whey Protein Hydroslate
Proprietary Branched Chain Ethyl Ester Amino Acid Matrix 6.16g
L-Leucine, L-Isoleucine, L-Leucine Ethyl Ester, HCI, L-Alanyl-L-Glutamine, L-2-Aminopentanoic Acid (L-Nor-Valine), L-Valine Ethyl Ester HCI, L-Isoleucine Ethyl Ester HCI, L-Arginine Ethyl Ester diHCL, L-Arginine, L-Valine
Proprietary Muscle Volumizing, NO2, Insulinotrophic, and Glutamine Matrix 4.88g
Creatine Gluconate, Creatine Monohydrate, Bis Picolinato Oxo Vanadium (BPOV), MTB Pump (Magnesium Tanshinoate B), Gama-Butyrobetaine HCI, COP (Creatine-O-Phosphate), Creatine Taurinate, L-Citrulline Malate, Di-L-Arginine-L-Malate, Di-Na-Creatine Phosphate Tetrahydrate, Gamma-Butyrobetaine Ethyl Ester Chloride
Power, Speed, Strength, and Endurance Matrix 3.17g
Beta-Alanine, Monosodium Phosphate Anhydrous, L-Histidine. Guanidinoprpionic Acid (GPA), Creatine Magnesium Chelate, Trisodium Phosphate Dodecahydrate, KIC (Ketoisocaparoic Acid Calcium), Beta-Alanine Ethyl Ester HCI
Redline Energy & Meltdown Fat Burning Technology 240mg
Caffeine Anhydrous, Barley (Hordeum Vulgare)(Bud), L-Tyrosine

Other Ingredients: Natural and Artificial Flavors, Malic Acid, Sucralean brand Sucralose, Citric Acid Anhydrous, Glycine (Food Grade).
Supplement facts may vary slightly between flavors.