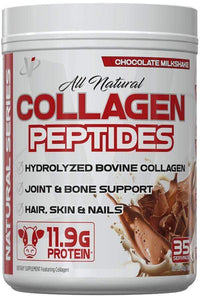 VMI Sports Collagen Peptides 35 servings
VMI Sports Collagen Peptides 35 servings
Collagen Peptides is a unique, all-natural protein featuring Hydrolyzed Bovine Collagen Protein known to help support healthy hair, skin & nails while also helping promote joint and bone health. Every serving of Collagen Peptides contains Solugel Collagen Peptides that can also help to fuel lean muscle growth and promote recovery.

Supplement Facts
Serving Size: 1 Scoop
Servings Per Container: 35
Calories 54 
Protein 11.9g
Sodium <94mg
Hydrolyzed Bovine Collagen 12g
Other Ingredients: Stevia, Luo Han Guo, Fruit Extract (Monk Fruit), Ultrasmooth Gum, Natural Vanilla Flavors.