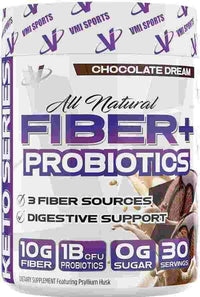 VMI Sports Fiber Plus Probiotic 30 servings
MI Sports Fiber Plus Probiotic 30 servings
VMI Sports Fiber Plus Probiotic is a naturally sweetened, zero sugar fiber and probiotics supplement, scientifically formulated to support gut health, digestion, and nutrient absorption. The synergistic pairing of 3 natural fiber sources, along with ProbioSEB Multi 9-strain probiotics makes VMI Sports Fiber + Probiotics the go-to digestive support supplement for those seeking to optimize gut health.

10g Fiber
1B CFU Probiotics
4.9g Fibersol-2
Supplement Facts
Serving Size 1 Scoop
Servings Per Container 30
Calories 40
Total Carbohydrate 11 g 4%
Soluble Fiber 10 g
Sugars 0 g 0%
Fiber Blend 11.4 g
9-Strain Probiotics (ProbioSEB Multi) 1 Billion CFU -
Fiber Blend
(Psyllium Husk (5g), Fibersol-2 (4.9g), Blueberry Fiber (1.5g).)
9-Strain Probiotics (ProbioSEB Multi)
(Lactobacillus acidophilus, L. casei, L. salivarius, L. plantarum, L. rhamnosus, L/ brevis, Bifidobacterium bifidum, Streptococcus thermophilus, B. lactis/longum.)
Other Ingredients: Natural Flavors, Citric Acid, Stevia, Monk Fruit.