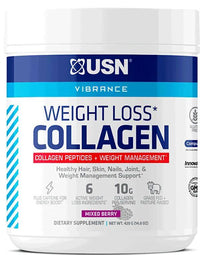 USN Weight Loss Collagen 30 servings
USN Weight Loss Collagen 30 servings
USN has packed Weight Loss Collagen with 25mg of grains of paradise, 750mg of CLA, 75mg each of garcinia cambogia and green tea, and half a gram of CarniPure branded carnitine tartrate. You also can't forget the Vibrance Series supplement's title feature, which is included at 10g of hydrolyzed collagen per serving.
Supplement Facts
30 Servings
Serving Size: 1 Scoop
Servings Per Container: 30
Amount Per Serving Amt%DV
Calories 35
Protein 9g<1%
Collagen Hydrolysate 10,000mg†
Conjugated Linoleic Acid 750mg†
CamiPure (L-Carnitine L-Tartrate) 500mg†
InnovaTea Natural Caffeine from Tea (Camellia sinensis) (leaf) 100mg†
Green Tea (Camellia sinensis) (leaf) Extract (std. to 60% Polyphenols) 75mg†
Garcinia cambogia (fruit) Extract [std. to 50% Hydroxy Citric Acid (HCA)] 75mg†
Coffea robusta (bean) Extract (std. to 98% Caffeine) 25mg†
Grains of Paradise (Aframomum melengueta) (seed) 25mg†

* % Daily Value is based on a 2,000 calorie diet. Your daily values may be higher or lower based on your calorie needs.

† Daily Value (DV) not established.

Other Ingredients: Citric Acid, Organic Tapioca Maltodextrin, Silicon Dioxide, Natural & Artificial Flavor, Corn Syrup Solids, Sodium Caseinate, Dipotassium Phosphate.

Allergen Warning
Contains Milk