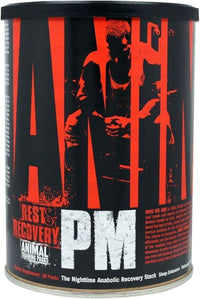 Universal Nutrition Animal PM 30 pack
Universal Nutrition Animal PM 30 pack.

Animal PM is loaded with herbs and minerals intended to promote relaxation, aminos and patented analogs designed to maximize recovery, and natural growth boosters intended to heighten growth factor output during slumber, a single pack of Animal PM turns your regular shut-eye into a heightened, night-time process… Enabling your efforts in the gym to reap the countless benefits of a restful, recuperative night's sleep.
Supplement Facts 
Serving Size 1 Pack
Servings Per Container30
Amount Per Serving %DV
Vitamin B6 (as pyridoxine HCl) 10.5 mg 525%
Magnesium (as oxide) 450 mg 113%
Zinc (as oxide) 30 mg 200%
GH Boosting Complex 3000mg
Gamma-Aminobutyric Acid (GABA) **
Arginine Alpha-Ketoglutarate (AKG) **
Ornithine HCl **
L-Tryptophan **
Alpha Glycerylphosphorylcholine (GPC) **
Immune & Recovery Complex with SuperSerum™ & Sustamine™ 2500mg
L-Glutamine **
EAA Blend (Leucine, Valine, Isoleucine, Lysine HCl, Arginine HCl, Histidine, Theronine, Methionine, Phenylalanine) **
Beef Serum Albumin Concentrate **
L-Alanyl-L-Glutamine **
Sleep & Relaxation Complex 1250mg
Valerian Root Powder **
Chamomile Root Powder **
Mucuna Pruriens (seed) (standardized for 15% L-dopa) **
Hops (strobile) (Humulus Lupulus) **
L-Theanine **
OTHER INGREDIENTS: Dicalcium phosphate, maltodextrin, microcrystalline cellulose, gelatin, stearic acid, silicon dioxide, magnesium stearate, titanium dioxide, FD&C blue #1, soy lecithin, FD&C red #3, pharmaceutical glaze.
Made in a GMP facility on equipment that processes milk, soy, egg, peanuts, tree nuts, fish, shellfish, and wheat.