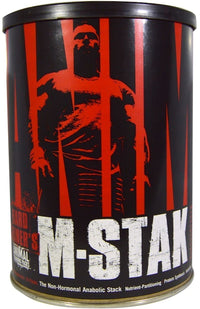 Universal Nutrition Animal M-Stak 21 paks
Universal Nutrition Animal M-Stak 21 paks
Universal Nutrition Animal M-Stak is built on a foundation of natural anabolic flavones born from Eastern European athletic studies. These special flavones have long been theorized to help enhance targeted gains in lean muscle mass.
M-Stak combines the most powerful of these compounds in significant dosages, making the long storied potential of the product all the greater. Primary among these flavones are Beta-Ecdysterone (Cyanotis Vaga) and 5-Methyl-y-Methoxyisoflavone. These ingredients have the ability to shuttle nutrients specifically towards lean mass accumulation, a process known as 'nutrient partitioning.'
Supplement Facts
Serving Size: 1 Pack
Servings Per Container: 21
Amount Per Serving  %DV
Natural Flavone/Sterone Complex:750mg
Cyanotis Vaga Extract (a-Ecdysterone)(whole plant)
5-Methyl-7-Methoxyisoflavone
Ajuga Turkestanica Extract (Turkesterone)
Phytosterols (providing beta sitosterol)
Anti-Catabolic Amino Complex: 3,000mg
L-Leucine
L-Isoleucine
L-Valine
L-Taurine
Acetyl-L-Carnitine (ALC)
Leucine Ethyl Ester HCI
Anabolic Adaptogen Complex: 1,000mg
Ashwagandha Extract (whole plant)
Kudzu (isoflavones)(root)
Eleutherococcus Senticosus (root)
Insulin Potentiating Complex: 500mg
Fenugreek Extract (4-hydroxyisoleucine)(seed)
Banaba Leaf Extract (1-3% Colosolic Acid)
Cinnamon Bark Powder
Na-R-Alpha Lipoic Acid (Na-R-ALA)
M Factor Complex with Bioperine: 500mg
Ginger Root Extract (Gingerols, Shaogols)
Grapefruit (6,7-Dihydroxybergamottin)(peel)
Piper Nigrum Fruit Extract
Energy Complex Methylxanthine Complex: 500mg
Caffeine
Kola Nut(seed)
Guarana Seed Powder
Other Ingredients: dicalcium phosphate, whey, microcrystalline cellulose, gelatin, stearic acid, magnesium stearate, magnesium silicate, titanium dioxide, fd&c blue #1, red #40, pharmaceutical glaze. contains milk and soy. made in a facility that processes milk, soy, egg, peanuts, tree nuts, fish, shellfish, and wheat.