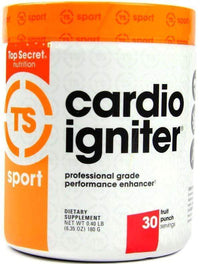 Top Secret Nutrition Cardio Igniter 30 servings
Top Secret Nutrition Cardio Igniter 30 servings
Athletic Performance

Increase your caloric utilization to get the most out of your cardio sessions! Cardio Igniter is designed to maximize your aerobic capacity so you can run, swim, spar, train longer, and utilize stored calories, not muscle. Drink up, lace up, and get out there and go for it.
Supplement Facts
Serving Size: 1 Scoop (6 Grams)
Servings Per Container: 30
Amount Per Serving
Calories – 5
Total Carbohydrates – 1 Gram
Sugars – 1 Gram
Niacin – 17 mg
Vitamin B6 – 8 mcg
Vitamin B12 – 10 mcg
Magnesium – 33 mg
Sodium – 110 mg
Potassium -230 mg
Proprietary Lipobolic Blend – 2228 mg
Carnosyn Beta Alanine, Choline Bitartrate, L-Tyrosine, Taurine, L-Carnitine, Red Beet Root Juice, Caffeine Anhydrous, Loquat Leaf Extract, Raspberry Ketones, D-Ribose, Brassica Campestris Powder, Advantra Z, Evodiamine, Kelp, Uva-ursi Powder, L-Norvaline.

Other Ingredients: Waxy Maize Starch, Citric Acid, Natural & Artificial Flavors, Sucralose, Salt, Acesulfame Potassium, FD&C Blue Dye #1.