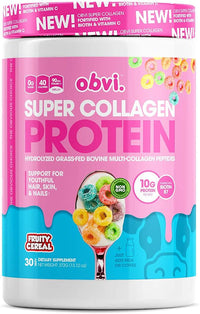 Super Collagen Protein is designed to bring back youth to your hair, skin, nails, and joints. State-of-the-art formula powered by delicious flavor options.
Stronger & Healthier Hair

Stronger & Healthier Hair
Glowing & Radiant Skin
Healthy Nail Growth
Alleviating Joint Pain & Soreness
Reduces Fine Skin Lines and Wrinkles
And Much More...!

Obvi's Super Collagen Protein is the most advanced Collagen in the market because It actually increases the absorption rate of collagen within the body.

Supplement Facts
Serving Size 1 Scoop(s)
Servings Per Container 30
Amount Per Serving % DV
Calories 35
Total Carbohydrate 0g
Dietary Fiber 0g
Protein 9g
Calcium 88mg 7%
Iron (as Ferrous Bisglycinate Chelate) (Iron Ferrochel™) 10mg 56%
Phosphorous 12mg 1%
Magnesium (as Magnesium Citrate) 19mg 4%
Sodium 108mg 5%
Collagen Peptides 10g
Vitamin C (as Ascorbic Acid) 90mg 100%
Vitamin E (as d-alpha tocopherol acetate) 23mg 153%
Biotin 100mcg 333%
Total Sugars 0g