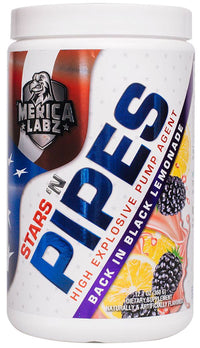 Merica Labz Stars N Pipes 20 Servings
Merica Labz Stars N Pipes 20 Servings

Stimulant Free
Few things scream 'Merica - or freedom - like crushing a workout while wearing a pair of American flag sweatpants and a bald eagle bandana. Considering that's your everyday workout attire, that essentially makes you a freedom fighter, son. And freedom fighters can't contribute to the fight for freedom with a couple of puny small arms - they need the KABOOM! Big munitions.
Supplement Facts
Serving Size 1 Scoop
Servings Per Container 20
Amount Per Serving
% Daily Value*
L-Citrulline 6000 mg-
Nitrosigine (Inositol Arginine Silicate) 1500 mg-
Pine Bark Extract (95% Proanthocyanidins) 250 mg-
Hydroprime (65% Glycerol Powder) 5000 mg-

Other Ingredients: Silicon Dioxide, Citric Acid, Natural and Artificial Flavor, Sucralose, Acesulfame Potassium.