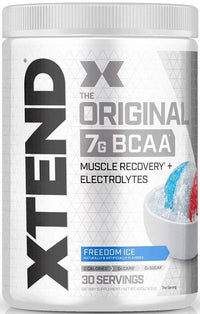 Xtend BCAA Original 30 servings
Xtend BCAA Orignial 30 servings
Powered by 7 grams of branched-chain amino acids (BCAAs), which have been clinically shown to support muscle recovery and growth, XTEND Original also contains hydrating electrolytes and additional performance ingredients to help you refuel, repair, and recover. Try all the sugar-free, mouthwatering flavors of XTEND to support your fitness goals.

7G OF BCAAS - Contains 7g of BCAAs in the nature-designed and research-proven 2:1:1 ratio
0 CARBS, 0 CALS, 0 SUGAR
3.5g of Leucine for Muscle Protein Synthesis
2.5g of L-Glutamine & 1g of Citrulline Malate
Stay Hydrated Pre-, During, and Post Workout with Electrolytes in XTEND
Supplement Facts
30 Servings
Serving Size: 1 Scoop (13g)
Servings Per Container: 30
Amount Per ServingAmt%DV
Total Fat 0g 0%
Cholesterol 0mg 0%
Sodium 230mg10%
Potassium 170mg 5%
Total Carbohydrates 0g 0%
Sugars 0g 0%
Vitamin B6(as Pyridoxine HCl) 640mcg32%
ELECTROLYTE BLEND:1170mg†
Trisodium Citrate Dihydrate, Potassium Chloride, Sodium Chloride
L-Leucine 3500mg†
L-Glutamine 2500mg†
L-Isoleucine 1750mg†
L-Valine 1750mg†
Citrulline Malate (1:1)1000mg†

* % Daily Value is based on a 2,000 calorie diet. Your daily values may be higher or lower based on your calorie needs.

† Daily Value (DV) not established.

Other Ingredients: Citric Acid, Natural Flavors, Sucralose, Acesulfame Potassium (Ace-K), FD&C Blue Lake #1, FD&C Red Lake #40.