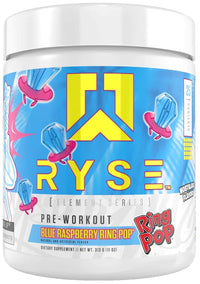 Ryse Supplements Pre-Workout 20 servings
Ryse Supplement PRE-WORKOUT
PUMP. ENERGY. STRENGTH.
Everything you need and nothing you don't. Now introducing the RYSE Element Series Pre-Workout. This pre-workout was designed with daily use in mind, and to bridge the gap between those high-stimulant days. However, we did not compromise and this pre-workout delivers clinical dosages and versatility.
150mg Caffeine Anhydrous paired with 70mg ZümXR® for daily sustained energy
1.5g of Arginine Nitrate (as NO3-T®) for increased blood flow and performance
3.2g of Beta-Alanine to push through muscle fatigue
Thinakmine™ and Choline for enhanced focus
Supplement Facts
Serving Size: 1 Scoop (12.5g)
Servings Per Container: 25
Amount per serving %DV
Choline (from Choline Bitartrate) 200mg 35%
Sodium 140mg 6%
Potassium 130mg 2%
Beta Alanine 3.2gm *
Betaine Anhydrous 2gm *
Arginine Nitrate (as NO3-T) 1.5gm *
L-Taurine 1.5 gm *
Caffeine Anhydrous 150mg *
zumRX Delayed Release Caffeine (std.min 75% caffeine) 70mg *
Vincamine (as Thinkamine) 10mg *

*% Daily Value is based on a 2,000 calorie diet. Your daily value may be higher or lower.

*Daily Value (DV) Not Established

Other Ingredients: Silica, Sodium Chloride, Sodium Bicarbonate, Natural Flavor, Sucralose, Acesulfame Potassium