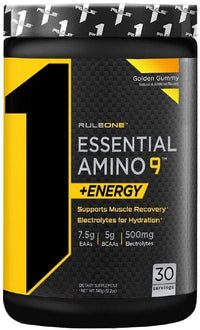 Rule One Essential Amino 9 +Energy 30 servings
Rule One Essential Amino 9 +Energy

R1 Essential Amino 9 delivers 7.5g of all 9 essential amino acids with added electrolytes for hydration.

7.5g of essential amino acids
5g of BCAAs
500mg of added electrolytes
130mg of tea leaf extract
Carefully blended and packaged in a GMP facility in the USA
Transparent Formula

ZERO Banned Substances

ZERO Added Sugar

ZERO Gluten

ZERO B.S.
R1 ESSENTIAL AMINO 9 BETTER INPUTS
Supplement Facts 
30 Servings 
Serving Size: 1 Scoop
Servings Per Container: 30 
Amount Per Serving Amt %DV 
Calories 10 
Total Carbohydrate 1g <1% 
Chloride 460mg 20% 
Sodium 160mg 7% 
Essential Amino Acids 7.5g 
L-Leucine 2.5g † 
L-Isoleucine 1.25g † 
L-Valine 1.25g † 
Lysine Hydrochloride 900mg † 
L-Threonine 850mg † 
L-Phenylalanine 450mg † 
L-Methionine 150mg † 
L-Histidine 100mg † 
L-Tryptophan 50mg † 
Electrolyte Blend (Sodium Chloride, Potassium Chloride, Magnesium Oxide) 500mg † 
Caffeinated Tea Leaf Extract 130mg † 

* % Daily Value is based on a 2,000 calorie diet. Your daily values may be higher or lower based on your calorie needs.

† Daily Value (DV) not established.
Other Ingredients: Malic Acid, Natural and Artificial Flavors, Citric Acid, Silicon Dioxide, Calcium Silicate, Sucralose, Sunflower Lecithin, Acesulfame Potassium, FD&C Yellow #5, FD&C Yellow #6