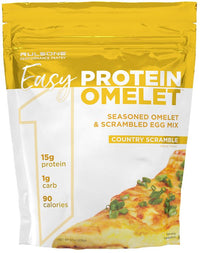 Rule One Easy Protein Omelet
Rule One Easy Protein Omelet
EASY PROTEIN OMELET SEASONED OMELET & SCRAMBLED EGG MIX
If you love omelets but don't love the inconvenience or cholesterol, we have some eggcellent news for you. Easy Protein Omelet delivers real savory egg taste and as much protein as three eggs (or 5 egg whites) in a package that's portable, free of messy shells, and effortless to prepare.
The seasonings are already inside, so you need to do is mix with water, heat, and eat. Crack open a bag today!

ZERO Gluten
ZERO Trans Fat
ZERO Messy Shells
ZERO Refrigeration required
ZERO Taste Sacrifice
ZERO Banned Substances
EASY PROTEIN OMELET BETTER INPUTS SEASONED OMELET & SCRAMBLED EGG MIX
As much protein as 3 whole eggs or 5 egg whites
15 grams of very high biological value (BV) protein
95% less cholesterol than 1 whole egg
1 gram of medium-chain triglyceride (MCT) oil
Easy to prepare - ready in minutes
Pre-seasoned with natural flavors and spices
Makes great-tasting omelets or scrambled eggs
Long-lasting, shelf-stable
Supplement Facts
12 servings per container
Serving Size 1 Scoop (25g)
Amount Per Serving %Daily Value *
Calories 100
Total Fat 2.5 g 3%
Saturated Fat 2 g 10%
Trans Fat 0 g
Cholesterol 10 mg 3%
Sodium 290 mg 13%
Total Carbohydrate 2 g 1%
Dietary Fiber 0 g 0%
Total Sugars 0 g
Includes 0g Added Sugars 0%
Protein 15 g
Vitamin D 1 mcg 6%
Iron 0%
Calcium 40 mg 4%
Potassium 410 mg 8%
* The % Daily Value (DV) tells you how much a nutrient in a serving of food contributes to a daily diet. 2,000 calories a day is used for general nutrition advice.
Other Ingredients: Egg White Protein, Butter Powder [Butter (Cream), Nonfat Dry Milk, Sodium Caseinate, Salt], Medium Chain Triglyceride Oil Powder, Natural Flavors, Potassium Chloride, Onion Powder, Garlic Powder, Xanthan Gum, Beta Carotene, Sunflower Lecithin, Salt, Pepper
Contains Egg and Milk