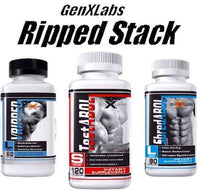 GenXLabs Ripped Stack V-Ripped, ShredABOL,TestABOL
GenXLabs Ripped Stack V-Ripped, ShredABOL, TestABOL
Cutting & Hardening Stack 
ShredABOL, V-Ripped, TestABOL 
Designed For Women and Men 
ShredABOL safely removes excess water while also providing electrolytes, glutamine, and carnitine that help keep and build lean muscles.
ShreAbol Supplement Facts:
Serving Size: 3 Capsules 
Servings Per Container: 30 
Amount Per Serving %DV 
Potassium 16 mg <2%
Niacin (as Niacinamide) 33 mg 165%
Vitamin B6 (as Pyridoxine) 15 mg 750%
Vitamin B12 (as Cyanocobalamin) 1 mcg 17%
Magnesium 2 mg <2%
ShredABOL High Pharmaceutical Diuretic Extract Blend: 1,225 mg **
Dandelion root extract, Uva Ursi, Green Tea Extract Hoodia Gordonii (Aerial 20:1)  
ShredABOL Vascilarity Complex 225mg ** 
Alpha Lipoic Acid, Acetyl-L-Carnitine, Capsicum 
Annum (cayenne pepper) 40,00SHU 
ShredABOL Nitrogen Synthesis 550mg ** 
L-Glutamine, N-Acetyl L-Tyrosine, L-Taurine
 %Daily Value is Based on a 2,000 Calorie Diet. 
**Daily Value (DV) not Established 
Other Ingredients: Gelatin, Magnesium Stearate, Silicon Dioxide, FD&C Blue #1, Titanium Dioxide
V-RIPPED contains two naturally occurring Plant Cutting Factors, Extra Strength Diuretic, Vanadyl Sulfate, Energizers plus BCAA.
V-Ripped Supplements Facts 
Serving Size: 2 Capsules 
Servings per Container: 30 
Amount Per Serving %DV 
Anti-Catabolic Recovery 400mg ** 
L-Leucine, L-Isoleucine, L-Valine 
V Ripped Growth Factors  225mg ** 
3alpha-Hydroxy, Sarsaparilla 
Muscular Shredding Amplifier 325mg ** 
Dandelion extract, L-Theanine 
Fat Burning Amplifier 511mg ** 
Caffeine, Theobromine, Infinergy DiCaffeine Malate,   N-Methyltyramine, Vanadyl Sulfate.
**Daily Value (DV) not Established
Other Ingredients: Hypromellose, Magnesium Stearate, Silica, Chlorophyll
TESTABOL - This all-natural, potent and effective supplement with bulbine natalensis, yohimbe bark, zinc, and milk thistle is designed for athletes who want to muscle in mind.   
TestABOL is perfect for any athlete, both men, and women who looking for extra performance.
TestABOL Supplement Facts
Servings Size: 1 Capsule
Servings Per Container: 120
Amount Per Serving % DV
Vitamin D3 (cholecalciferol) 1,000 IU 250%
Testosterone Accelerator 325mg *
Bulbine Natalensis,  Zinc, Milk Thistle (80% Silymarin)

**Daily Value (DV) not Established
Other Ingredients: Rice Flour, Magnesium Stearate