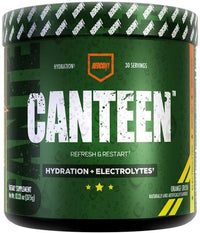 Redcon1 Canteen

HYDRATION + ELECTROLYTES  PROFESSIONAL GRADE FORMULA
Electrolytes are electrically charged minerals that carry energy in your body. When mixed with water, electrolytes can help support the electric tissues in the body, which are essential for maintaining proper organ function and overall health. Electrolyte powders like CANTEEN help replenish your body with essential vitamins and minerals while giving you the hydration you need to feel and perform at your best. They play a role in muscle contraction, metabolism, and various other cell functions.
Supplement Facts
Serving Size: 1 Scoop (12.6g)
Servings per container: 30
Calories 20
Amount Per Serving %DV
Total Carbohydrate 5g 2%*
Total Sugars 4g **
Includes 4g Added Sugars 8%*
Vitamin C (as Ascorbic Acid) 90mg 100%
Niacin (as Niacinamide) 16mg 100%
Vitamin B6 (as Pyridoxine HCl) 1.7mg 100mg
Folate 400mcg DFE (235.3 mcg folic acid) 100%
Vitamin B12 (as Methylcobalamin) 2.4mcg 100%
Biotin 30mcg 100%
Pantothenic acid (as D-Calcium Pantothenate) 5mg 100%
Magnesium (as Magnesium Citrate) 40mg 10%
Zinc (as Zinc Citrate) 5.5mg 50%
Sodium (as Sodium Citrate and Sea Salt) 300mg 13%
Potassium (as Potassium Citrate) 300mg 6%
Dextrose 4000mg **
Taurine 1000mg **
Coconut Fruit Water Powder 500mg **
Hyaluronic Acid (as Sodium Hyaluronate) 100mg **
*Percent Daily Values (DV) are based on a 2,000 calorie diet. **Daily Value (DV) not established.
Other Ingredients: Citric Acid, Malic Acid, Natural and Artificial Flavor, Calcium Silicate, Sucralose, Fruit and Vegetable Powder (for Color), Silicon Dioxide, Beet Root Powder (for Color).