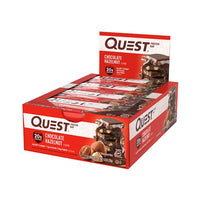 Quest Bars Quest 12 box
Quest Natural Protein Bars are all-natural, high fiber, gluten-free, sugar-free, artificial sweetener-free that actually tastes great. This guilt-free snack is actually very nutritious, providing 20 g of Protein, and is truly low carb. They said it couldn't be done to have a low-carb bar taste so great, but we used a special process to make the bar tasty. Quest Bars are the only bars you can eat guilt-free.

Quest Natural Protein Bar Description from Quest Nutrition 
They said that this protein bar couldn't be made but we finally did it.
It's delicious food packed with protein that makes no compromises. Just read our ingredients and you'll see.
There's nothing better than a warm cinnamon roll. Now you can get that amazing taste in a high protein (20 grams!) bar with none of the guilt!
Supplement Facts
Serving Size: 1 Bar
Servings Per Container: 12
Calories 200
Calories From Fat 70
Total Fat 8g
Saturated Fat 2.5g
Cholesterol 5mg
Sodium 290mg
Potassium 140mg
Total Carbohydrate 21g
Dietary Fiber 15g
Sugars 1g
Erythritol 2g
Protein 21g
Calcium 15%
Iron 8%
Phosphorous 20%
Magnesium 8%
Percent Daily Values are based on a 2,000 calorie diet.
Other Ingredients: Protein Blend, (Milk Protein Isolate, Whey Protein Isolate), Soluble Corn Fiber (Prebiotic Fiber), Almonds, Water, Unsweetened Chocolate, Natural Flavors, Erythritol, Cocoa Butter, Palm Oil, Sea Salt, Calcium Carbonate, Sucralose, Steviol Glycosides (stevia).
WARNING: Contains Almonds and Milk- Derived Ingredients.