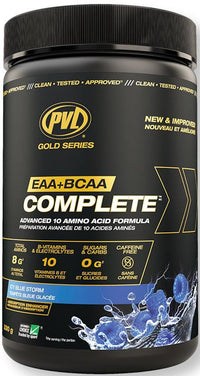 Pure Vita Labs PVL EAA+BCAA COMPLETE is a complete EAA (essential amino acid) blend. There are 9 essential amino acids, of which 3 are also known as BCAAs (branched-chain amino acids). More and more research shows that a complete EAA blend (including BCAAs) shows better growth and recovery than just supplementing with BCAAs alone. The addition of L-Arginine (CEAA) aids in total amino acid transport. Stacked with a stimulant-free focus blend, energizing B-vitamins, all 5 electrolytes, and boosted with a 100% dose of the patented absorption agent, BioPerine EAA+BCAA Complete™ is the most complete formula of its kind – ready for every sport.

COMPLETE 10 EAA FORMULA | EAAs (essential amino acids) are nine amino acids (including the three BCAAs and added L-Arginine) necessary for greater protein synthesis

MUSCLE GROWTH AND RECOVERY | Better than BCAAs alone, EAA + BCAA — the combination has been shown to be 50% better at delivering muscle protein synthesis vs BCAAs alone.

BETTER THAN BCAA ALONE | Get the missing amino acids in this easy-to-digest form—ones not included in your regular BCAA supplement. BCAAs get recovery started, but all EAAs need to be present for optimal muscle recovery effectiveness.

GREAT ABSORPTION | University studies show that by adding a 100% dose of BioPerine, amino acid uptake can be boosted by 25 to 32%. EAA+BCAA Complete contains a 100% full dose!

COMPLETE PERFORMANCE | B vitamins (energy), five key electrolytes (hydration/performance), and the Nootropic - Lion's Mane (focus), combine to create the most complete Amino Acid formula that exists today!
Supplement Facts
Servings Size: 1 scoop (11gm)
Servings Per Container: 30
Amount Per Serving %DV
10 Instantized Amino Acids 7200 mg
BCAAs 2:11 5000mg
L-Leucine (2500mg), L-Isoleucine (1250mg), L-Valine (1250mg)
EAAs with Arginine 2200mg
L-Threonine (1070mg), L-Lysine (625mg), L-Arginine (200mg), L-Phenylalanine (220mg) L-Methionine (65mg), L-Tryptophane (10mg), L-Histidine (10mg)
Focus Blend 1000mg
Taurine (500mg), L-Tyrosine (300mg), Lion's Mane 10:1 (150mg), Siberian Ginseng 38:1 (50mg
Energizing B-Vitamins
Thiamine B1 1.2mg
Niacinamide B3 20mg
Vitamin B6 8.5 mg
Folic Acid B9 400mcg
Vitamin B12 7.2 mcg
Hydrating Electrolytes
Calcium 65mg
Magnesium 84mg
Chloride 120mg
Sodium (sea salt) 60mg
Potassium (citrate) 60mg
BioPerine (Multi-Patented Absorption Agent 5mg

Other Ingredients: Malic acid, citric acid, glycine, silicon dioxide, natural flavors, medium-chain triglycerides, sucralose, purified stevia leaf extract, sunflower lecithin, natural color (red beet powder)