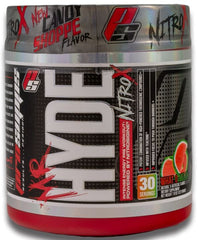 ProSupps Mr. Hyde Nitro X CLEARANCE
ProSupps Mr. Hyde Nitro X 30 servings
Mr. Hyde Nitro X is way more than just another pre-workout. Formulated to be the complete training solution, Mr. Hyde Nitro XTM takes training to a whole new level. Mr. Hyde Nitro X leaves no stone unturned in the pre-workout checklist.* Don't settle for just any pre-workout; leave no doubt with Mr. Hyde Nitro X. 
Intense Pre-Workout
Supplement Facts
30 Servings
Serving Size: 1 Scoop (7.4g)
Servings Per Container: 30
Amount Per Serving %DV
Niacin 25 mg 156%
Strength Matrix 4.5g
Beta-Alanine 2.5 g *
Creatine HCL 1 g *
Arginine Silicate Inositol (Nitrosigine) 500 mg *
L-Citrulline Aspartate 500 mg *
Intensity Matrix 653mg
Choline Bitartrate 500 mg *
L-Theanine 50 mg *
N-Acetyl Tyrosine 50 mg *
Theacrine (as TeaCrine) 25 mg *
Gamma-aminobutyric Acid (GABA) 25 mg *
Yohimbe Bark Extract 3 mg *
Caffeine Matrix† 420mg
Caffeine Anhydrous 300 mg *
Di-Caffeine Malate 70 mg *
Caffeine Citric Acid Blend 50 mg *
Citric Acid *
Caffeine Anhydrous *

** Daily Value not established.

† Actual Caffeine Content is 378mg per serving
Other Ingredients: Natural and Artificial Flavors, Citric Acid, Sucralose, Calcium Silicate, Silicon Dioxide, Malic Acid, Soluble Dietary Fiber, Acesulfame Potassium, Tartaric Acid, FD&C Blue #1 Manufactured in a facility that processes milk, egg, soy, wheat, and shellfish.