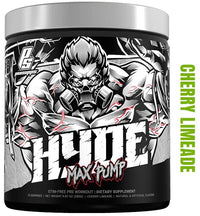 ProSupps Hyde Max Pump
Stimulant-Free
Designed for MAXIMUM PUMP, strength, and power, HYDEMax Pump maximizes blood flow to carry essential nutrients to muscle tissue for increased volume, vascularity, and performance. Now get more pump than you ever thought possible and in a stim-free pre-workout, so you can take on its own, or stacked with another HYDEpreworkout for extreme performance.
HYDEMax Pump has 4,000mg of high-quality L-Citrulline and 1,000mg of Arginine Nitrate (NO3-T) for the development of plasma arginine which converts to Nitric Oxide for increased blood flow, maximum muscle pump, and oxygen uptake.
With increased blood flow to muscle tissue, HYDEMax Pump also contains 3,200mg of Beta-Alanine to help push past the point of exhausting for more reps and Creatine HCl for increased muscle volume. 
Supports Nitric Oxide Production for Maximum Pump and Training Endurance†
Promotes Blood Flow for Optimal Nutrient Delivery†
Maximizes Power and Strength Output for Peak Performance†
Caffeine and Stimulant Free
Zero Sugar, Zero Carbs, Zero Calories, Gluten Free
SUPPLEMENT FACTS
Serving Size: 1 Scoop (11.2g)
Servings Per Container 25
Amount Per Serving % DV*
Vitamin C (As Ascorbic Acid) 60 mg 66%
L-Citrulline 4,000 mg **
Beta-Alanine 3,200 mg **
Creatine HCL 1,000 mg **
Arginine Nitrate (as NO3-T®) 1,000 mg **
*Percent Daily Values are based on a 2,000 calorie diet.
** Daily Value not established.
Other Ingredients: Citric Acid, Natural, And Artificial Flavors, Calcium Silicate, Silicon Dioxide, Sucralose