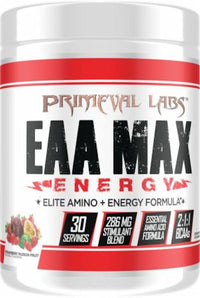 Primeval Labs EAA Max Energy
Primeval Labs EAA Max Energy 30 servings
Primeval Labs rocked the amino acid supplement category when we released EAA Max. The product was downright delicious, but you wanted more!
You wanted all the best aspects of EAA Max but with some extra energy to really get you going.
Well, Primeval fans, your prayers have been answered as we've now created the ultimate amino energy supplement on the market in EAA Max Energy!
Not only do you get a full 5g dose of 2:1:1 BCAAs along with a comprehensive spectrum of essential amino acids, but you also get ample energy to crush a daunting workout or make it through another long afternoon at the office.*
This is the answer to the common, over-priced energy drink that only provides caffeine with nothing else to offer.*
EAA Max Energy provides all the energy you could want and it also supports muscle growth and recovery, giving you the best of both worlds in one affordable product.*
Supplement Facts
Serving Size: 1 Scoop (12.1g)
Calories 10
Total Carbohydrate 3g
Magnesium 17mg
Sodium 39mg
Potassium 52mg
Stimulant Blend 286mg
Di-caffeine malte(infinergy)
Caffeine anhydrous, caffeine citrate
Branch Chain Amino Acids
L-leucine 2500mg
L-isoleucine 1250mg
L-valine 1250
Essential Amino Acids:
L-lysine hydrochloride 300mg
L-threonine 225mg
L-phenylalanine 200mg
L-Tryptophan 50mg
L-histidine 25mg
L-methionine 20mg
Muscular Energy & Nutrient Delivery:
Highly Branched Cyclic Dextrin 2000mg
D-ribose 500mg
Other Ingredients: Citric acid, natural flavors, sucralose, silicon dioxide, red #40.