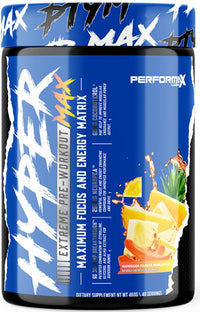 Performax Labs Hypermax Extreme
Performax Labs Hypermax Extreme
Pre-workout supplements play an essential role in a person's exercise and diet regimen. They must deliver on many fronts: energy, focus, blood flow, and performance, just to name a few. In order to properly prepare the mind and body for the hard work ahead, a precise blend of ingredients working together synergistically must be achieved. That is why Performax Labs is proud to present HyperMax Extreme: a fine-tuned formulation of clinically-backed, efficaciously-dosed ingredients for optimal performance. Our blend of vasodilators, adrenaline boosters, and sports performance enhancers will keep your brain humming and your body pushing through, no matter what you throw at it.
Supplement Facts
Serving Size: 1 Scoop (11.5g)
Servings Per Container: 40
3DPUMP-Breakthrough (L-Citrulline(vegan fermented), Glycerol Amla (phyllanthus emblica) (fruit) Extract: 3000mg
Beta-Alanine: 1600mg *
L-Citrulline (vegan fermented) 1500mg *
Betaine Anhydrous (Trimethylglycine) : 1250mg
S7 (Green Coffee bean (fruit) Extract, Green Tea (leaf) Extract, Turmeric (root) Extract, Tart cherry (fruit) Blueberry (fruit) Kale (leaf) Broccoli (whole plant) 25 mg *
ENERGY AND FOCUS
L-Tyrosine: 1000mg
ThinFen (Beta-Phenylethylamine HCL) 200mg *
Caffeine Anhydrous: 200mg *
NeuroPEA (eria Jarensis (whole plant) Extract 125mg *
Cocobuterol (Cocoa Extract Theobroma cacao L.) (seed)(std. min 50% cocoa alkaloids) 30mg *
Citrus Aurantium (fruit) Extract 25mg *
Rauwolfia Vomitoria Extract (std. to min 90% Rauwolscine: 1mg *

Other ingredients: Citric acid, natural and artificial flavors, sucralose, silicon dioxide, acesulfame potassium, FD&C Red #40.