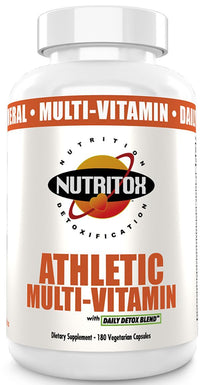 Nutritox Athletic Multi-Vitamin 180 Veg Caps
Nutritox Athletic Multi-Vitamin w/ Daily Detox Blend provides a powerful combination of the highest quality vitamins, minerals, and natural plant extracts to maximize an athlete's potential through superior nutrition.
Its formula contains higher levels of antioxidants to help counteract the oxidative stress caused by intense physical activity. Also included is our patented Daily Detox Blend designed to help support the body's natural detoxification process, helping to combat toxins, environmental pollutants, and the effects of lifestyle stresses. Daily Detox Blend also helps to assimilate protein for better growth and recovery. In addition to our patented Daily Detox Blend, special plant extracts and nutrients have been utilized for optimal results and recovery during periods of intense activity.
High levels of B vitamins, including Pyroxidal-5-Phosphate, aid in neural transmission for better concentration and quicker reaction times. TMG, N-Acetyl Cysteine, and Malic Acid aid in reducing lactic acid burn during activity and reducing inflammation after activity. Increased levels of antioxidants including Turmeric Extract, Calcium D-Glucarate, and Vitamins C and E fight off free radical damage and increase immune function after intense activity. Produced in a powder-filled capsule, they are easy to swallow and digest.
3-in-One product with multi-vitamin, multi-mineral, and patented Daily Detox Blend
All-natural, no synthetics
No fillers, binders, lubricants, preservatives, or excipients
Utilizes MicroSorb Vegetarian Capsules
Faster recovery; less soreness and muscle tension
Enhanced energy & mental clarity
Optimized physical performance naturally through specifically dosed vital nutrients, vitamins, and minerals
Supplement Facts
Serving Size: 6 Capsules
Number of Servings: 30 Servings
Amount Per Serving % Daily Value
VITAMIN A - (AS 75% BETA CAROTENE & 25% PALMITATE) 10,000 IU 200%%
VITAMIN C - (AS ASCORBIC ACID, ASCORBYL PALMITATE) 1,000 Mg 1677%%
VITAMIN D - (AS CHOLECALCIFEROL D-3) 400 IU 100%%
VITAMIN E - (AS D-ALPHA TOCOPHEROL WITH MIXED TOCOPHEROLS) 300 IU 1000%%
VITAMIN K 30 Mcg 38%%
VITAMIN B-1 - (THIAMINE HCI) 35 Mg 2333%%
VITAMIN B-2 - (RIBOFLAVIN) 20 Mg 1176%%
VITAMIN B-3 - (NIACINAMIDE, NIACIN) 75 Mg 375%%
VITAMIN B-6 - (AS PYRIDOXINE HCI) 20 Mg 1000%%
PYRIDOXAL-5'-PHOSPHATE 5 Mg **%
FOLIC ACID 800 Mcg 200%%
VITAMIN B-12 - (AS CYANOCOBALAMIN 500 Mcg 8333%%
BIOTIN 300 Mcg 100%%
PANTOTHENIC ACID - (CALCIUM PANTOTHENATE) 100 Mg 1000%%
CALCIUM - (AS CALCIUM CITRATE) 500 Mg 50%%
IODINE - (ATLANTIC KELP) 150 Mcg 100%%
MAGNESIUM - (AS MAGNESIUM OXIDE AND CITRATE) 500 Mg 125%%
ZINC AS ZINC AMINO ACID CHELATE 25 Mg 167%%
SELENIUM - (AS L-SELENOMETHIONINE) 200 Mcg 286%%
COPPER AS COPPER AMINO ACID CHELATE 2 Mg 100%%
MANGANESE AS MANGANESE 5 Mg 250%%
CHROMIUM - (AS CHROMIUM POLYNICOTINATE) 200 Mcg 167%%
POTASSIUM - (AS POTASSIUM CITRATE) 99 Mg 3%%
BORON - (AS BORON CITRATE) 1 Mg **%
CHOLINE - (AS CHOLINE BITARTRATE) 25 Mg **%
MALIC ACID 300 Mg **%
TRIMETHYLGLYCINE 100 Mg **%
SILYMARIN - (FROM STANDARDIZED MILK THISTLE EXTRACT) (SILIBUM MARIANUM) (SEED) 100 Mg **%
ALPHA LIPOIC ACID 100 Mg **%
CALCIUM DI-GLUCARATE 25 Mg **%
TUMERIC ROOT EXTRACT (95 % CURCUMINOIDS) (CURCUMA LONGA) (ROOT) 100 Mg **%
N-ACETYL CYSTEIN 160 Mg **%
INULIN 200 Mg **%
Other Ingredients: VEGETARIAN CAPSULES, VEGETABLE CELLULOSE