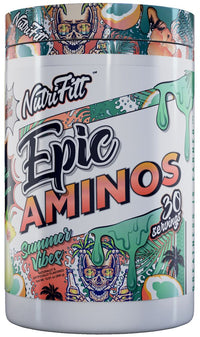 NutriFitt Epic Aminos Muscle Recovery
Have you been pushing harder than ever in the gym but aren't seeing any changes to your physique? Do you find you're constantly sore and struggle to even finish off your workouts before hitting the wall? Your lack of results has nothing to do with your intensity and determination in the gym and everything to do with inefficiency in properly recovering following your workouts. NutriFitt Epic Aminos changes all of that with a mouth-watering amino acid supplement to help you maximize your recovery and results!
Supplement Facts
Serving Size 1 Scoop (15 g)
Srvings Per Container 30
Amount Per Scoop %DV
Calcium (as Calcium Citrate) 65mg 5%
Magnesium (as Magnesium Citrate) 58mg 14%
Chloride (as Sodium Chloride) 117mg 5%
Sodium (as Sodium Chloride) 75mg 3%
Potassium (as Potassium Citrate) 82mg 2%
BCAA 2:1:1 BLEND 6000mg
L-Leucine 3000mg 
L-Isoleucine 1500mg
L-Valine 15000mg
EAA BLEND 2000MG
Amino9 2000mg
Leucine, Lysine, Threonine, Isoleucine, Valine, Phenylalanine, Methionine, Histidine, Tryptophan
Taurine 1000mg
L-Tyrosine 1000mg
Coconut (Cocos nucifera) [Fruit] Water Powder 500mg
Astragin 25mg
Astragalus membranaceus [Root] & Panax Notoginseng [Root]) Extract
Daily Value (DV) not established
Other Ingredients: Citric Acid, Malic Acid, Maltodextrin, Natural & Artificial Flavors, Sucralose, Acesulfame Potassium, Calcium Silicate
Allergen Warning: This product has been manufactured in a facility that also processes milk, eggs, fish shellfish, tree nuts, peanuts, wheat and soy.
CA PROP 65 Warning: this product may expose you to chemicals including lead known to the State of California to cause cancer and both defects or other reproductive harm. For more information, for to www.P65warnings.ca.gov