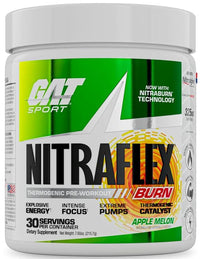 GAT Sport Nitraflex Burn 30 serving
GAT Sport Nitraflex Burn 30 serving
BUILD MUSCLE & BURN BODY FAT*
HYPEREMIA AND THERMOGENIC FORMULA
NITRAFLEX has been the trusted name when it comes to pre-workout for nearly a decade and reformulated NITRAFLEX  BURN is its newest scientifically advanced muscle-building powerhouse designed to build lean, dense muscle while burning subcutaneous body fat.* Feel the power surging within minutes. NITRAFLEX BURN will motivate your training and help take your physique and performance to the next level! 

Supplement Facts
Serving Size: 1 Scoop (6.83 grams)
Servings Per Container: 30
Amount Per Serving % DV †
Niacin (As Nicotinic Acid) 25 mg 125%
Sodium 82mg 4%
NitraBurn Thermogenic, Acute Energy, Focus, Intensity, Neuromodulating, and Endurance Matrix 2550mg
Beta-Alanine, L-Tyrosine, Caffeine Anhydrous, L-Carnitine L-Tartrate, Green Tea Leaf Extract, L-Theanine, Theobromine, CaloriBurn GP, Grains of Paradise Extract Powder Rauwolfia vomitoria root extract
Vasoactive Arginase-Regulating NO Precursor Complex 1000mg
Inositol - Stabilized Arginine Silicate (as Nitrosigine), Resveratrol (from Japanese Knotweed Root Extract), Trans-Pterostilbene
Boron Citrate 200mg *
† Daily Value (DV) not established.
Other Ingredients: Malic Acid, Silicon Dioxide, Suralose, Natural and Artificial Flavors, Xanthan Gum Powder, Acesulfame Potassium, Natural Sweetener Blend (Erythritol, Oligosaccharides, Natural Flavors)
Contains 325mg Caffeine Anhydrous