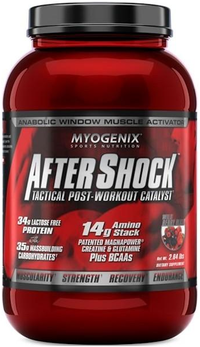 Myogenix After Shock 2.64 lbs
Myogenix After Shock 2.64 lbs
Each serving of AfterShock contains:
34g  Whey Protein (100% Lactose-Free, Fast Digesting Proteins With Di & Tri Peptides)
35g Mass Building Carbohydrates (Rapid Absorption, Glycogen Replenishing Carbohydrates)
14g Amino Stack – Creatine & Glutamine Plus BCAAs† (With High Absorption, Patented Magnesium Creatine Chelate, Magnesium Glycyl Glutamine, Leucine, Isoleucine, Valine, & Arginine)
1500mg Glucosamine, Chondroitin & MSM
Alpha Lipoic Acid, Vitamin C & B-Vitamins
Take AfterShock and Surge Past Genetic Limitations!
Supplement Facts
2.64 Lbs. 
Serving Size 2 Level Scoops (80g)
Servings Per Container 15
Amount Per Serving % DV*
Calories 280
Calories From Fat 25
Total Fat 3g 4%
Saturated Fat 2g 9%
Trans Fat 0g
Cholesterol 30mg 10%
Total Carbohydrate 30g 10%
Sugars 15g
Other Carbohydrate 15g
Protein 34g 54%
Calcium 186mg 19%
Sodium 150mg 6%
Potassium 430mg 12%
AMINO STACK: 8g**
A Proprietary Non-Steroidal, Highly Anabolic Formula Consisting Of Muscle Volumizers, Strength, And Recovery Agents.
Magnesium Creatine Chelate
Magnesium Glycyl Glutamine
Molecularly Bonded Glutamine
L-Norvaline
BCAA's (Branched Chain Amino Acids) 7.25g**
L-Leucine 3.45g
L-Valine 1.85g
L-Isoleucine 1.95g
Antioxidant Blend: 1500mg
(Vitamin A 73%, Vitamin C 1667%, Vitamin E 200%, Alpha Lipoic Acid, B1 (Thiamin) 200%, B2 (Riboflavin) 200%, B3 (Niacin) 200%, B5 (Pantothenic Acid) 200%, B6 200%, B9 (Folate) 200%, B12 200%)
Joint Repair: 1500mg**
(Glucosamine Sulfate, Chondroitin Sulfate, MSM)
** Daily Value not established

* Percent Daily Values are based on a 2,000 calorie diet

Other Ingredients
AFTERSHOCK Fast Absorption Protein Blend™ (Partially Hydrolyzed Whey Protein Isolate, Lactose-Free Whey Protein Isolate And High Growth Factor Ultra-Filtered Whey Protein Rich In Lactoferrins And Immunoglobulins), Glycogenx™: A Polymerized Glyconutrient Providing Cellular Rehydration And Glycogen Replenishment (Long Chain Polysaccharide Maltodextrin), Cane Juice Solids, Natural, And Artificial Flavors, Citric Acid, Potassium Citrate, Sodium Citrate, Vegetable Juice (For Color), Sucralose.

Allergen Statement: This Product Contains Ingredients Derived From Milk. Manufactured In A Facility That Process Milk, Soy, Eggs, Wheat.