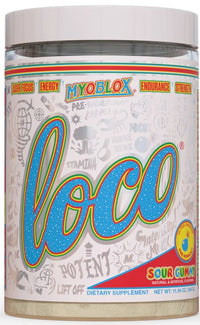 Myoblox Loco 25 servings
THE ALL IN 1 PRE-WORKOUT IS DESIGNED TO DELIVER!
LOCO is our all-in-one pre-workout supplement that packs a strong punch with 400mg of natural caffeine per scoop! Experience elevated energy, focus, intensity, and skin-splitting muscle pumps! We made sure we had sourced quality ingredients each in their respected doses of psychoactive, nootropics, and muscle primers that will launch your workouts to the next level every time you hit the gym. Don't waste money on crap that doesn't do crap, GO FKN LOCO. USE ONLY 1 SCOOP!
Supplement Facts
Serving Size: 1 Scoop (13g)
Servings Per Container: 25
B6 (As Pyridoxal-5'-Phosphate [P5P]) 5mg 250%
B12 (Methylcobalamin) 1000mcg 8,333.2%
Loco 1 Scoop
Citrulline Malate 6,000mg *
L-Taurine 2,000mg *
L-Tyrosine 1,000mg *
LOCO Magic Matrix 1,425mg:
Choline Bitartrate, RealCaf (Caffeine Derived From Green Green Tea Leaf), L-Theanine, Theobromine, Citrus Aurantium Extract (fruit) (as Advantra Z), Huperzia Serrata Whole Plant Extract As Huperzine A (1%)