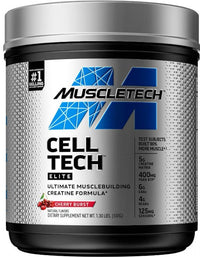 MuscleTech CELL-TECH ELITE 1.30lbs
MuscleTech CELL-TECH 1.30lbs
Cell-Tech Elite is engineered with the most researched form of creatine and is packed with more essential muscle builders, fewer carbs, and added electrolytes.
Powerhouse Muscle Building Creatine Formula!
5g of HPLC-certified creatine & creatine HCl
6g EAAs and 4g BCAAs for enhanced muscle recovery
Contains Sensoril and PEAK ATP
Low in carbs + added electrolytes

CELL-TECH can be used by active men, women, fitness enthusiasts, high-performance athletes, powerlifters, cross-fitters, and bodybuilders.
Supplement Facts
Serving Size: 1 Scoop (30g)
Servings Per Container Approx. 20
Amount Per 1 Scoop % Daily Value
Calories 60
Total Carbohydrate 15g 5*
Total Sugars 13G *
Includes Added Sugars 13g * 26%
Vitamin C (As Ascorbic Acid) 125mg 139%
Vitamin B6 (As Pyridoxine Hydrochloride) 5.3mg 312%
Vitamin B12 (As Cyanocobalamin) 0.2mcg 8%
Magnesium (As Magnesium Oxide) 30mg 12%
Sodium 65mg 3%
Potassium (As Dipotassium Phosphate) 30 mg <1%
BCAA & EAA Amino Complex
L-Leucine 2000 mg *
L-Isoleucine 1000mg *
L-Valine 1000 mg *
L-Lysine (as lysine hydrochloride) 500mg *
L-Threonine 500mg *
L-Phenylalanine 500mg *
L-Methionine 250mg *
L-Histidine 250mg *
Muscle & Strength Growth Matrix
Creatine Monohydrate 2.5g *
Creatine Citrate 2.5g *
PEAK ATP (adenosine 5'-triphoshate isodium) 400mg *
Research-Backed Cortisol Control
Sensoril Ashwagandha Extract (as Withania somnifera)(root and leaf) 125mg *
Electrolyte Blend
Sodium Chloride 55mg *
Dipotassium phosphate 55mg *
* Percent Daily Values are based on a 2,000 calorie diet

† Daily Value (DV) not established

Other Ingredients Carb Blend (Dextrose, ModCarb [Oat Bran, Quinoa, Buckwheat, Millet], Waxy Maize [Corn Starch], Cluster Dextrin), Silicon Dioxide, Natural Flavors, Citric Acid, Sucralose, Malic Acid, Acesulfame-Potassium, Vegetable Juice Powder (Color), Beta-Carotene (Color). Anti-Foam (Polydimethylsiloxane, Methylated Silica)

Contains coconut ingredients. Processed in a facility that also processes milk, egg, wheat, soy, tree nut, peanut, fish/crustacean/shellfish ingredients.