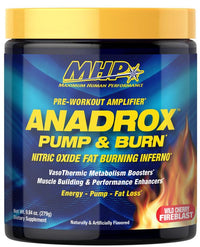 MHP Anadrox Pump & Burn Pre-Workout 30 servings
MHP Anadrox Pump & Burn Pre-Workout combines the power of nitric oxide with potent energizers, performance enhancers, and vasothermic fat-burning catalysts, in one breakthrough formula. The simultaneous increase in nitric oxide and thermogenesis causes a rapid increase in heat, boosting your metabolism and calorie burning for enhanced fat loss. This advanced pre-workout supplement is designed to fuel your workouts, increasing muscle power and endurance while igniting extreme pumps and fat burning. If you're a results-driven athlete, ANADROX Pump & Burn will help deliver those results. Feel the pump and fuel the burn!*

Nitric Oxide Fat Burning Inferno
VasoThermic Metabolism Boosters
Energy and Performance Enhancers
Electrolyte Replenishment
Muscle Building and Performance Enhancers
POTENT DOSES OF PROVEN INGREDIENTS
Supplement Facts
30 Servings 
Serving Size: 1 Scoop (9.3g)
Servings Per Container: 30
Amount Per Serving Amt %DV
Calories 10
Total Carbohydrates 2g 1%
Vitamin C (as calcium ascorbate) 60mg 67%
Niacin 20mg NE 125%
Vitamin B6 (as pyridoxine HCl) 5mg 294%
Folate (as folic acid) 337mcg DFE84%
Vitamin B12 (as cyanocobalamin) 250mcg10417%
Magnesium 105mg 25%
Zinc (as zinc citrate) 2.5mg 23%
Copper (as copper gluconate) 1mg 111%
Manganese (as manganese sulfate) 1mg 43%
Chromium (as chromium picolinate) 50mcg 143%
Sodium 75mg 3%
Potassium 100mg 2%
VasoThermic Pump Inducing Fat Burning Activators  3613mg†
The Pump: Nitrofolin - Nitric Oxide & Cellular Respiration Activators (2028 mg L-arginine, L-citrulline malate, L-tyrosine, choline bitartrate (providing 3.5mg choline), banaba leaf extract (Lagerstroemia specisoa) (1% corosolic acid), N-acetyl-L cysteine, taurine, vanadyl sulphate, NADH (Nicotinamid adenine dinucleotide).
The Burn: ThermoZ7 (930mg)
Purine Nucleoside & Phosphodiestrerase Inhibitors: Guarana seed extract, green coffee bean extract, green tea leaf extract (providing 45mg EGCG and 250mg caffeine)
Norepinephrine, Beta Agonis & Glycerol-3-Phosphate Dehydrogenase Activators: Citrus aurantium bitter orange fruit extract (6% synephrine), L-Phenylalanine, grains of paradise (Afrmomum melegueta)(seed) extract (standardized for 6-Paradol), capsicum extract, guggulsterones E and Z.
Cycloxygenase Inhibitors: IsoOxygene hops (strobile) extract, turmeric root extract
Beta receptor Site Upregulating Factors: Quercetin dihydrate, hesperidin (from citrus bioflavonoid complex), BioPerine black pepper fruit extract (2 mg)
Electrolyte Replenishment Complex (655 mg): Potassium citrate, himalayan pink salt, magnesium oxide.

Other Ingredients: Maltodextrin, Citric Acid, Malic Acid, Calcium Silicate, Natural and Artificial Flavors, Silica, Sucralose, Acesulfame Potassium, FD&C Red #40.