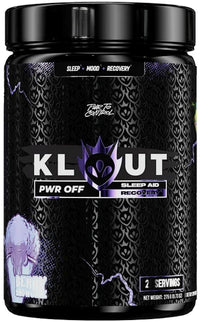 Klout Pwo Off Sleep Aid
PWR OFF is our sleep aid product which helps you unplug and de-stress after a long day or late workout. PWR OFF was created to help you fall asleep quicker, stay asleep longer, and wake up better, all with a 100% transparent formula and no proprietary blends. PWR OFF also works to increase anabolic processes such as muscle breakdown recovery and promote higher rates of protein synthesis. 

PWR OFF is meant for those who need that little extra help getting a long and restful night's sleep after a late-night workout, a long day at the office, or just a brain that won't shut down to sleep.
Supplement Facts
Serving Size: 1 Scoop (11.04)
Servings Per Container: 25
Amount Per Serving %DV

Vitamin B6 (as Pyridoxal 5-Phosphate 15mg 750%
Magnesium (as Magnesium Bisglycinate Magnesium Oxide, and Magnesium Citrate) 158mg 39%
Zinc (as Zinc Gluconate) 28mg 186%
L-Glycine 3000mg **
GABA (asGamma-Aminobutyric Acid) 1500mg **
L-Ornithine 500mg *
L-Theanine 300mg **
Celery Seed Extract 25mg **
Melatonin (Rapid Release) 2.5mg **
Melatonin Extended Release 2.5mg *

** Daily Value not Established
Other Ingredients: Maltodextrin, Citric Acid, Malic Acid, Natural & Artificial Flavors, Silicon Dioxide, Sucralose, Acesulfame Potassium