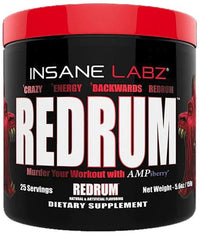 Insane Labz Redrum 25 servings
Insane Labz Redrum 25 servings
Get the Energy You Need to Murder Your Workout

Redrum is a shining example of a high-quality, high-stim pre-workout formula. It doesn't just load you up with caffeine; it powers your body and mind with scientifically-backed ingredients. If you're tired of having to take multiple scoops of pre-workout, running out of energy before your cardio workout is worked out, or tired of having three cups of coffee just to get going - give Redrum a try.  You won't be disappointed.

STRENGTH ENERGY FOCUS. Redrum is formulated to maximize pumps and give you a clean burst of energy during your workout with no crash afterward. How is that possible? Redrum is infused with Infinergy, a specialty form of caffeine bonded with malic acid. This allows for dramatic energy level spikes with a boost in athletic performance.
NITRIC OXIDE BOOSTER. Not only is Redrum a top pre-workout, but it will also boost your Nitric Oxide levels to give you vein bursting pumps. Agmatine Sulfate and Beta-Alanine are a proven ingredients for rapid NO production.
SCIENTIFICALLY BACKED INGREDIENTS. Redrum is packed full of the best ingredients on the market. L-Taurine. Beta-Alanine, Yohimbine, Infinergy, Niacin, and B12. All these are tied together with AMPiberry and OXYgold for maximum absorption and optimization.
Supplement Facts
Serving Size: 1 Scoop (6.3g)
Servings Per Container: 25
Niacin (as nicotinic acid) 10mg
Vitamin B12 (as cyanocobalamin 1%) 500mcg
Redrum blend 4.8g
Beta-alanine, taurine, agmatine sulfate, infinergy, oxygold, ampiberry, rauwolfia vomitoria extract.
Other Ingredients: Citric acid, silica, natural and artificial flavoring, sucralose, calcium silicate, acesulfame potassium, FD&C blue #1, FD&C red #40.