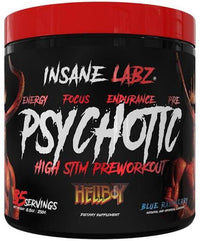 Insane Labz Psychotic Hellboy 35 servings
Insane Labz Psychotic Hellboy

The High Stimulant Pre Workout

Insane Labz Psychotic Hellboy is an intense pre-workout powder not meant for anyone who is not used to stimulants. This pre-workout contains high stimulants.
Psychotic Hellboy Edition is the most intense pre-workout supplement from Insane Labz. Psychotic Hellboy isn't for beginners and will wake you up, build your endurance, and overall make your athletic performance greater! With ingredients like Beta-Alanine for improved performance to caffeine for focus and energy. If you are wanting to get tough in the gym, this is your pre-workout. 
Supplement Facts
Serving Size: 1 Scoop (7.1g)
Servings Per Container: 35
Psychotic Blend 5.3g **
Beta Alanine, L-Taurine, L-Citrulline Malate 2:1, L-Tyrosine, Caffeine Anhydrous, Infinergy DiCaffeine Malate, Caffeine Citrate, AMPiberry (Juniperus Communis)(berry), Rauwolfia Vomitoria Extract (std. min. 90% alpha yohimibine)(rootbark)
Other ingredients: Citric Acid, Natural & Artificial Flavoring, Siica, Sucralose, Calcium Silicate, Acesulfame Potassium (Ace K), FD&C Blue #1.