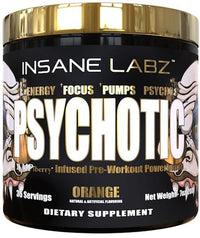 Insane Labz Psychotic Gold 35 servings
Insane Labz Psychotic Gold 35 servings
Psychotic Gold is a complete pre-workout that offers similar energy as the original while adding vascularity boosters to flood your muscles with the oxygen they need to get more done.

Psychotic GOLD is formulated for those hardcore stimulant junkies that want to push their workouts to the next level.

Supplement Facts
Serving Size: 1 Scoop (5.8g)
Servings Per Container: 35
Psychotic GOLD Blend 4234mg
Beta alanine, L-citrulline malate, agmatine sulfate, caffeine anhydrous, DMAE bitartrate, caffeine citrate, AMPiberry, Oxygold, rauwolfia vomitoria extract.
Other Ingredients: Natural and artificial flavoring, citric acid, tartaric acid, silica, sucralose, calcium silicate, acesulfame potassium, FD&C blue #1.