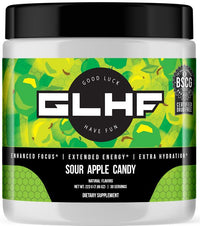 GLHF Pre-Game - Pre-Workout
GLHF Pre-Game - Pre-Workout
Good Luck Have Fun
In the heat of battle, things get HOOOT! The only way to beat the heat is to put it out with a blizzard!

+ 30 Servings Per Container
+ Organic Caffeine
+ Fully Certified
+ Supreme Focus
+ Hydration
Our proven blend of Nootropics, natural caffeine, and pure coconut water was designed to combat fatigue and distraction while at the same time ignite game-changing amounts of energy and focus. Avoid those negative crashes and jitters from harmful alternatives and simply enjoy the great taste and results from GLHF. All our products are BSCG drug-free certified, every batch is tested and screened to ensure that you receive the highest quality product.
Supplement Facts
Serving Size: 1 Scoop Approximate (6g/0.21oz)
Servings Per Container: 30
Amount Per Serving %DV
Calories 5
Vitamin C (as Ascorbic Acid) 125 mg 139%
Vitamin D (as Cholecalciferol) 62.5 mcg (2,500 IU) 313%
Thiamin (as Thiamine Hydrocholride) 3 mg 250%
Riboflavin (as Ribflavin) 3 mg 231%
Vitamin B6 (as Pyridoxal 5-Phosphaye) 5 mg 294%
Vitamin B12 (as Methylcobalamin Dicalcium Phosphate) 25 mcg 1,042%
Choline (as Choline Bitaretrate) 400 mg 73%
L-Tyrosine 1,500 mg **
L-Theanine 200 mg **
Natural Caffeine (from Green Coffee Bean) (VegiSurge) 150 mg **
Bacopa (Bacopa Monnieri) Whole Aerial Extract 100 mg **
Coconut Water Freeze Dried (Organic) (CocOganic Plus) 100mg **
Reishi Mushroom (Ganoderma Lucidum) Fruit Powder 75 mg **
Theobromine 75mg **
Ashwagandha (Withania somnifera) Root Powder 75 mg **
Hericium Erinaceus Fruit Powder 75 mg **
Percent Daily Value based on a 2,00 Calorie Diet.
** Daily Value (DV) not established.
Other Ingredients: Natural Flavor, Citric Acid, Sucralose, Silicon Dioxide, Calcium Silicate
CONTAINS TREE NUTS