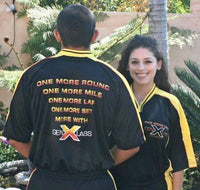 GenXLabs Training Set, Shirt and Shorts (Discontinue Limited Supply)
GenXLabs Training Set, Shirt and Shorts
Stay dry and comfortable in the breathability Shirt and Short Training Set.
This Training set is made from 100% polyester and features Dri-FIT moisture management that pulls excess sweat and moisture away from the skin.

GenXLab's Training Set is also designed with 100% polyester mesh for breathability during excise. All Black with yellow trim with GenXLabs One More.