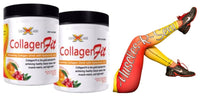 GenXLabs Collagenfit, with FREE Active Legging
GenXLabs Collagenfit with Active Legging
GenXLabs CollagenFit 30 servings
Refreshing Zero Calories with 5250 mg Collagen Drink 

CollagenFit contains all the optimum nutrients
Collagen is the most abundant protein in the body and serves as the primary structural protein for your skin, bones, muscles, tendons, ligaments, blood vessels, and GI system and tendons. In fact, collagen may account for up to 35% of whole-body protein content.
CollagenFit Supplement Facts
Servings Size 7.2 g (Approximately One Scoop)
Servings Per Container: 30
Amount Per Serving % DV
Vitamin C (as Ascorbic Acid) 100mg 167%
Collagen (Hydrolysate) Type 1 & 3 5g* *
Bromelain (2400 GDU/g) 100 mg **
Hyaluronic Acid 50mg**

 Percent Daily Value (DV) Based on a 2,000 Calorie Diet
**Daily Value (DV) not Established
Other Ingredients: Malic Acid, Natural and Artificial Flavor, Silica, Sucralose, Acesulfame Potassium, FD&C RED 40, FD&C YELLOW 5. 

Limited Offer Deal (value $59.99)
GenXlabs Active Print Legging Muscles-R-Sexy
Custom Limited Edition 
Dare To Stand Out 
Polyester Lycra Fleece 

Three Tone Legging 

Designed for Athletes who demand the highest quality and want to look their best. Brighten up your training with Muscles-R-Sexy Active Print Leggings designed to keep you cool, dry and comfortable during all workouts.