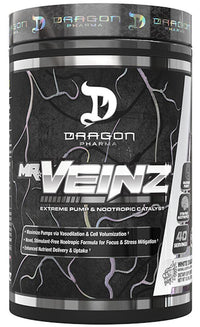 Dragon Pharma Mr. Veinz 40 servings
Dragon Pharma Mr. Veinz 
Mr. Veinz is a high potency, stimulant-free nootropic matrix. While pre-workout formulas have traditionally relied on stimulants for enhancing focus and training intensity, the route taken with MR. VEINZ is utilizing a novel, scientifically-backed nootropics. Featuring Noogandha as the star player and paired with a trio of potent additional nootropic components, you'll experience enhanced cognition, elevated focus heightened training intensity, and have it all tied together with potent stress mitigation to keep you locked in for the long term.
Supplement Facts 
Serving Size: Small Scoop (3.9g)/Large Scoop (7.8g)
Servings Per Container: 40/20
Osmoreegulation Pump & Nutrient Uptake Matrix 1.8g: Glycerol Powder (As HydroMax) 1000mg, Arginine Silicate Inositol (As Nitrosigine) 750mg, S7 25mg, Green Coffee Bean (Coffee Arabica) (Bean) Extract, Green Tea (Camelia Sinensis) (Leaf) Extract, Turmeric (Curcuma Longa) (Rhizome) Extract, Blueberry (Vaccinium Corymbosum) (Berry) Extract, Broccoli (Brassica Oleracea Talica) (Whole Plant), Kale (Brassica Oleracea Acephala) (Leaf), Tart Cherry (Prunus Cerasus) (Whole Cherry) AstraGin 25mg, Astragalus Membranaceous And Pnax Notoginseng (Root) Extract
Stim Free Cognitive Elevation & Focus Matrix 700mg: L-Tyrosine 250mg, Lion's Mane (Hericium Erinaceus) (Fruiting Body) Extract (30% Polysaccharides), NooGandha 150mg, Ashwagandha (Withania Somnifera) (Root), Alpinia Galanga (Root) Extract 100mg
Other Ingredients: Malic Acid, Soluble Corn Fiber, Natural & Artificial Flavors, Calcium Silicate, Tartaric Acid, Silicon Dioxide, Sucralose, Sodium Citrate, Beta Carotene (For Color).