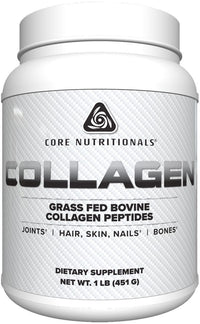 Core Nutritionals Collagen
Core Nutritionals Collagen
JOINTS/HAIR, SKIN, NAILS/BONES
Collagen is by far the most plentiful protein found in the human body. It makes up the body's skeletal framework, as well as provides integrity to ligaments, tendons, and other connective tissues found inside the body. It is also a primary component of healthy hair, skin, nails, as well as other important structures of the body. Collagen supplements have become increasingly popular as of late, but most people do not know that the type of collagen matters just as much as the quality of the source.
Core has combined Collagen Types I and III from a high-quality bovine hide that works to provide strength for structures such as skin, tendons, bones, connective tissues, teeth, muscles, organs, and arteries.
Supplement Facts
Serving Size:1 Scoop(s)
Servings Per Container: 41
Amount Per Serving % Daily Value*
Calories 40 Calories from Fat 0
Total Fat 0mg
Saturated Fat 0mg
Polyunsaturated Fat 0mg
Monounsaturated Fat 0mg
Trans Fat 0mg
Cholesterol 0mg
Sodium 55mg
Potassium 0mg
0Total Carbohydrate 0mg
Sugars 0mg
Dietary Fiber 0mg
Protein 10g
Calcium 22mg
Hydrolyzed Collagen Peptides (from bovine hide) 11gms
* The % Daily Value (DV) tells you how much a nutrient in a serving of food contributes to a daily diet. 2,000 calories a day is used for general nutrition advice.
Other Ingredients: Hydrolyzed Bovine Collagen Peptides (From Grass-Fed Beef)