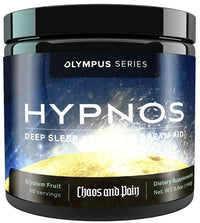 Chaos and Pain Hypnos Sleep Aid
Chaos and Pain Hypnos Sleep Aid
Deep Sleep Aid - All Natural Sleep Aid
You grow while you sleep, and if you're not hitting that deep sleep stage, your GH and testosterone levels will reflect it. That's why Chaos and Pain have introduced Hypnos™, a sleep aid so potent you'll have to peel the pillow off your face every morning before you head to work.

100% All Natural Sleep Aid with no gimmicks and the promises some of these products and companies deliver. Just a history of 8+ years of sales of this product with it getting better and better every single time. The idea that one single ingredient can be so powerful, almost divine in what it can achieve, makes it just that good. So, what does this miracle worker on an ingredient do, and how does that affect you, the everyday gym-goer?
Supplement Facts
Serving Size: 1 Rounded Scoop (4g)
Servings Per Container: 40
Amount per serving %DV
Magnesium (as Masnesium Aspartate) 25mg 6%
Zinc (as Zinc Picolinate) 6.3mg 57%
Gamma-Aminobutyric Acid (GABA) 500mg *
L-Theanine 450mg *
Valerian Root Extract (valeriana officinalis) 300mg *
Hops Flower Extract (Humulus Lupulus) 50mg *
Mucuna Pruriens Extract 98% L-Dopa) 50mg *
Passion Flower (passiflora Inccarnata) 30mg *
Melatonin 2mg *