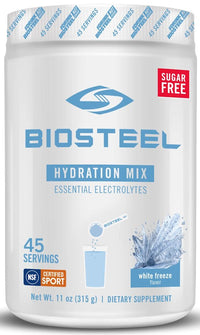 BioSteel Hydration Mix 45 servings
BioSteel Hydration Mix has been designed in the most natural way possible to help keep you hydrated throughout the day. Our sugar-free formula is made from clean, quality ingredients, has all five essential electrolytes, and contains no artificial flavors and colors. Added vitamins and minerals help support overall good health and the normal function of your immune system. Simply mix into your water for clean, healthy hydration.

Sugar-free
Essential electrolytes
No artificial colors/flavors
No artificial sweeteners
No preservatives
Caffeine-free
Vegan
NSF Cert for Sport
Supplement Facts
Servings Size 1 Scoop (7gm)
Servings Per Container about 20

Calories 5
Total Carbohydrate 1 gm <1%
Sodium 140mg 6%
Calcium 18mg 2%
Magnesium 5mg
Potassium (as Potassium Citrate Monohydrate) 33mg
Zinc (as Zinc HVP Chelate) 0.16mg 1%
Biotin 0.3 mcg 1%
Vitamin B12 (as Cyanocobalamin) 0.3 mcg 13%
Folate 12mcg DFE (7mcg Folic Acid) 3%
Niacin (as Nicotinic Acid) 0.3mg 18%
Pantothenic Acid (as Calcium D-Pantothenate) 0.27mg 5%
Vitamin B6 (as Pyridoxine Hydrochloride) 0.3mg 18%
Riboflavin 0.3mg 23%
Thiamine (as Thiamine Hydrochloride) 0.3mg 25%

AMINO ACID BLEND
L-Leucine 1202 mg
L-Valine 544 mg
L-Isoleucine 544 mg
Glycine 460 mg
L-Glutamine 973 mg
Taurine 135 mg
Calcium Carbonate from Lithothamnion spp. (Aquaman) 36.6mg
Magnesium Citrate 13.6mg
Choline (as Choline Bitartrate) 300 mcg
Inositol 300 mcg

Other ingredients: Stevia (Leaf) Extract, Citric Acid, Malic Acid, Natural Flavor, Celtic Sea Salt, Sodium Citrate, Sunflower Lecithin (As An Emulsifier).