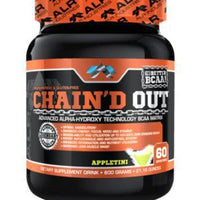 ALRI (ALR Industries) Chain'D Out 60 servings
Chain'd Out is a BCAA (Branched-Chain Amino Acid) supplement produced by ALR Industries. BCAAs are essential amino acids, which means the body cannot synthesize them on its own and they must be obtained through diet or supplementation. The 2:1:1 ratio refers to the specific proportion of the three BCAAs in the product: Leucine, Isoleucine, and Valine. In this case, it means that for every 2 parts of Leucine, there are 1 part each of Isoleucine and Valine.
Supplement Facts
Serving Size: 10g (1 scoop)
Servings Per Container: 60
Amount Per Serving:
BCAA Malfactor 211 Matrix 7000mg:
LeuMal (Leucine Malate), IsoMal (Isoleucine Malate), ValMal (Valine Malate)
PerformActiv Proprietary Matrix Blend 1800mg:
Alanine, L-Theanine, CordyActiv (Dong Chong Xia Cao)
RhoActiv (Rhodiola Rosea Extract)
AppleActiv (Apple Peel Extract)

Other Ingredients:
Citric Acid, Natural and Artificial Flavors, Aspartame, Acesulfame-K.