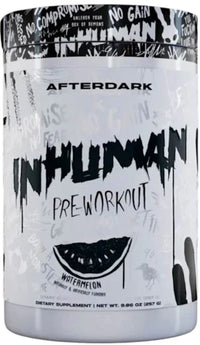 AfterDark Pharmaceuticals Inhuman pre-workout
AfterDark Pharmaceuticals Inhuman pre-workout is the latest stim junkie pre-workout on the block. Coming out of the left field, Inhuman Pre Workout presses on all the levers we enjoy as stim junkies. This pre-workout contains 2 amino, three sources of caffeine (400mg), and noopept for focus, mood elevation, and energy.
Supplement Facts
Serving Size 12.2gm (1 Scoop)
Serving Per Container: 21
Vitamin B3 (as Niacin) 20mg 100%
Vitamin B6 (as Pyridoxine Hydrochloride) 10mg 500%
Vitamin B12 (as Methylcobalamin 500mcg 833%
Choloride (as Sodium Chloride) 120mg 3%
Sodium (as Sodium Chloride) 80mg 3%
Rage and Energy Complex
Delayed Release Caffeine Matrix 400mg *
(Caffeine Anhydrous, Dicaffeine Malate, Micro-encapsulated Caffeine (Yeidling 375mg Caffeine)
2-Aminoisoheptane (DMHA) 220mg *
Synephrine HCI 65mg *
Inhuman Muscular Volumization
L-Citrulline Malate 5000mg *
L-Taurine 1000mg *
Glycogen Polymers (D-Ribose, Dextrose) 750mg *
Neural Activation and Anti Crash
L-Tyrosine (Fermented) 500mg *
L-Theanine 100mg *
Noopept (N-phenyl acetyl-L-prolyglycine ethyl ester) 20mg *
Huperzia Serrate Extract (std. 1% Huperzine A) 100mcg *
Explosive Strength
Beta Alanine 3500mg *
Creatine Pyrinox (creatine Pyruvate, L-Arginine L-Pyroglutamate) 500mg *
Other Ingredients: Malic Acid, Citric Acid, Maltodextrin, Natural & Artificial Flavoring, Silicon Dioxide, Sucralose, Acesulfame Potassium, Natural Colors.