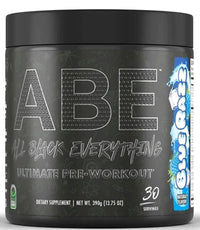 ABE Ultimate Pre-Workout is a product designed to enhance your workout performance by providing a blend of active ingredients. Here are some key points about the product based on the information you provided:
Unique Blend of Ingredients: ABE Ultimate Pre-Workout claims to offer a unique blend of essential active ingredients. This suggests that the formula is carefully crafted to provide specific benefits for workout performance.

Research and Lab Testing: The manufacturer claims to subject every ingredient in the formula to extensive research and lab testing. This is a good practice to ensure that the product meets quality and safety standards.

Informed Choice Supplement Testing: ABE Ultimate Pre-Workout undergoes testing by a reputable 3rd party called Informed Choice. This testing is often done to certify that the product is free of banned substances and safe for use by athletes. This can be important for athletes who need to ensure they don't inadvertently consume substances that could lead to disqualification.

30 Servings per Container: Each tub of ABE pre-workout powder contains 390 grams of product, and this is stated to provide 30 servings per container. This information is useful for consumers to understand the cost and value of the product.
Supplement Facts
Serving Size 1 Scoop
Servings Per Container 30
Amount Per Serving % Daily Value*
Sodium 204mg 9%
Vitamin B12 (as Cyanocobalamin) 100mg 4167%
Taurine 200mg-
Niacin (Vitamin B3) 40mg 250%
L-Tyrosine 200mg-
Caffeine Anhydrous 350mg-
L-Theanine 200mg-
Beta-Alanine 3000mg-
Citrulline Malate 2:1 6000mg-
Choline Bitartrate (as VitaCholine) 250 mg-
Choline (from Choline (+) Bitartrate) 82.5mg 15%
Zynamite (Mangifera Indica Extract (Mango Leaf Extract Standardized to >60% Mangiferin)) 140mg-
Methyliberine 40% (as Dynamine) 100mg-
Senactiv (Panax notoginseng root, Rosa canina (fruit)) 50mg-
AstraGin (Astragalus membranaceus (root) Extract and Panax notoginseng (root) Extract) 50mg-
Huperzine A (Huperzia serrata (aerial parts) Extract) 90mg-
Other Ingredients: Natural Flavor, Citric Acid, Sodium Bicarbonate, Silicon Dioxide, Calcium Silicate, Sucralose, Caramel Color.