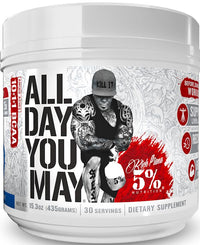 5% Nutrition All Day You May 30 servings
5% Nutrition All Day You May (ADYM) is a dietary supplement marketed as a comprehensive amino acid formula designed to support muscle recovery and overall performance. It's primarily used by athletes and fitness enthusiasts for its potential benefits.
Supplement Facts
Serving Size 15.5 g
Servings Per Container 30
Amount Per Serving % DV
Vitamin C (as Ascorbic Acid) 200 mg 222%
Vitamin B6 (as Pyridoxine Hydrochloride) 2 mg 118%
Vitamin B12 (as Cyanocobalamin) 125 mcg 5208%
Calcium (as Dicalcium Phosphate) 65mg 5%
Phosphorus (as Dicalcium Phosphate) 50mg 4%
Branched Chain Amino Acid Blend: 6000mg **
L-Leucine, L-Isoleucine and L-Valine
Conditionally Essential Amino Acid Blend 2750 mg **
L-Glutamine, L-Carnitine L-Tartrate
Amino Acid Support Blend: 960mg **
L-Taurine, Raw Coconut (Cocos nucifera) (fruit) Water Concentrate, Alpha-Hydroxyisocaproic Acid (Leucic Acid), Bromelain, Blueberry (vaccinium angustifolium) (fruit) Powder
Intra-Cellular Buffer Blend 800mg **
Beta-Alanine, Dicalcium Phosphate, Sodium Bicarbonate
Joint & Liver Support Blend 650mg **
D-Glucosamine Sulfate Potassium, Methylsulfonylmethane (MSM) Milk Thistle (Silybum marianum) (seed) 650 mg **
Essential Amino Acid Blend: 205mg **
L-Phenylalanine, L-Threonine, L-Lysine HCI, L-Histidine HCI, L-Tryptophan, L-Methionine

** Daily Value (DV) not established.
Other Ingredients: Natural Flavors, Citric Acid, Glucose Polymers, Acesulfame Potassium, Sucralose, Silicon Dioxide, Red #40
It May contain traces of shellfish