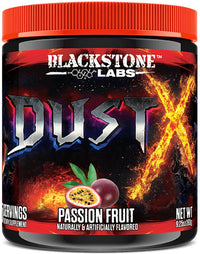 Blackstone Labs Dust X 25 serving
Blackstone Labs Dust X 25 serving
Dust X is the single most powerful and explosive pre-workout ever formulated. Each scoop delivers intense, long-lasting energy that will make you never want to leave the gym. Hardcore training demands a hardcore pre-workout, and for that, the only option is Dust X! 
Supplement Facts 
Serving Size: 1 Scoop
Servings Per Container: 25
Citrulline Malate 2:1 4g
Beta-Alanine 2.5g
Agmatine Sulfate 1g
L-Tyrosine 1g
Dimethylaminoethanol 750mg
Phenylethylamine 500mg
Caffeine Anhydrous 350mg
2-Aminoisoheptane (DMHA) 150mg
Nelumbo Nucifera (Standardized For Higenamine) 75mg
Huperzine A (Huperzia Serrate) (Moss) 300mcg
Other Ingredients: Maltodextrin, Citric Acid, Erythritol, Natural & Artificial Flavours, Sucralose, Silicon Dioxide.